THE FIRST ANNUAL ALL STORAGE UGLY SWEATER CONTEST
Happy Holidays from Everyone Here at All Storage!
Our Winner! Donald from the South Fort Worth District!
Runner Up! Jill from Carrollton!
Honorable Mention to the whole team from our Grand Prairie District!
More Entries…
Christmas Tree Vanessa from White Settlement
Jennifer from Boat Club in Fort Worth and her Photo Shoot!
Andrew the Elf from McCart in Fort Worth
Matthew from North Fort Worth
Whitney from Beach in Keller
Violet from Crowley Rd. in Fort Worth
Niki from Granbury Rd in Fort Worth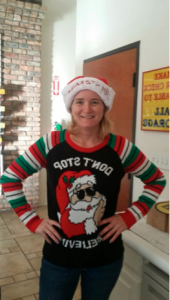 Sherri from South Fort Worth
Marco from Carrollton
How to Win An Ugly Sweater Contest!
Winning that Ugly Sweater Contest is getting harder every year. These days it's not enough to buy an old sweater at your local thrift shop – although that can be a great way to go if you're on a budget.
The best entries we saw were homemade and even included lights, signs and props! The more over the top the better when it comes to an Ugly Sweater Contest!